Cassandra has tried a lot of stuff out of desperation to get rid of acne. And through these experiences, Cassandra has also learned what not to put on her face. So, here are five treatments Cassandra would never try at home as an esthetician.
Lemon scrubs
Photo cred: NDTV Food
It is mind-boggling to Cassandra that lemon skincare products are still available. For example, Star Face is an amazing brand with some amazing products like their pimple patches, but for some reason, they also have lemon scrub!
Cassandra doesn't understand how there is so much skincare education out there, but lemon scrubs are still a thing! Lemon is very irritating, and if it's in a scrub, it's even more irritating. Physical exfoliation like scrubs remove dead skin from the skin's surface so that other things can penetrate.
So, if you apply lemon to skin that's just been exfoliated, your skin is going to be even more sensitive, making things worse. Then, you have to buy other products to repair the skin's barrier. So, if you'd prefer a gentle inexpensive exfoliant, Cassandra would recommend three of these less expensive and less harmful options for your skin.
Wishful Yo Glow AHA & BHA Enzyme Scrub -$39
The Ordinary's 30% AHA + 2% BHA Peel -$8.00
Paula's Choice SKIN PERFECTING 25% AHA + 2% BHA Exfoliant Peel - $40
Snail Mucin
Snail mucin is excluded from Cassandra's routine for two reasons. For one, they wash snails and put them on electric mats. Secondly, snail mucin can also break people's skin out. Literally, there are so many on Tik Tok who have shared their experiences with snail mucin and fungal acne.
Fungal acne is pittosporum folliculitis because (fungal acne doesn't exist). It's little white bumps that are actually a yeast infection. And yes, snail mucin products could be triggering this and making it worse. And if you're allergic to dust mites, and they make you itch, you might be allergic to snail mucin too.
So, Cassandra has found two alternatives that she loves
VEGREEN Fragrance-free Nature Muicin Serum  
This is a snail mucin alternative made from yams and no snail products.
And then, if you actually want that slimy texture, this is a fermented bean essence from Korea. This gives you the same texture and benefits without the potential allergens and questionable extraction methods
Dissolvable Collagen Strings/ "Soluble Protein Threads"
Our skin is made up of collagen. Collagen is the strong stuff that's responsible for our skin's structure, and it's the most abundant protein in our bodies. So, when people see collagen in skin care, they want to buy a bunch of it. 
For instance, people often buy "dissolvable collagen strings." The collagen strings are placed in the creases of people's forehead, they dissolve, and supposedly, this appears to smooth them.  
Self-Dissolving Collagen Patches and Sprays
There are also collagen face masks. You're supposed to spray them, and they disappear. This is supposed to make your skin more supple. 
However, collagen doesn't absorb into the skin, and a lot of these products could be doing more harm than good, especially if they have fragrances, irritants, or if the price is too expensive.
Safiya Nygaardand James Welsh did an entire video on these collagen patches. But to be honest, applying collagen is not going to erase wrinkles. At best, collagen is a moisturizing humectant. It can hold onto water and moisturize the skin. If you truly want collagen building, look for retinoids and vitamin C. These ingredients are medically proven to help build collagen when applied topically.
There are other options like vegan collagen or hydrolyzed collagen too that can be broken down into polypeptide chains or amino acids. Peptides are actually small enough to penetrate into the skin and work. They can have anti-redness, anti-inflammatory, wound healing, or collagen building properties. But, if you're buying straight up collagen and putting on the skin, this is not the best choice for getting results. So, save your money.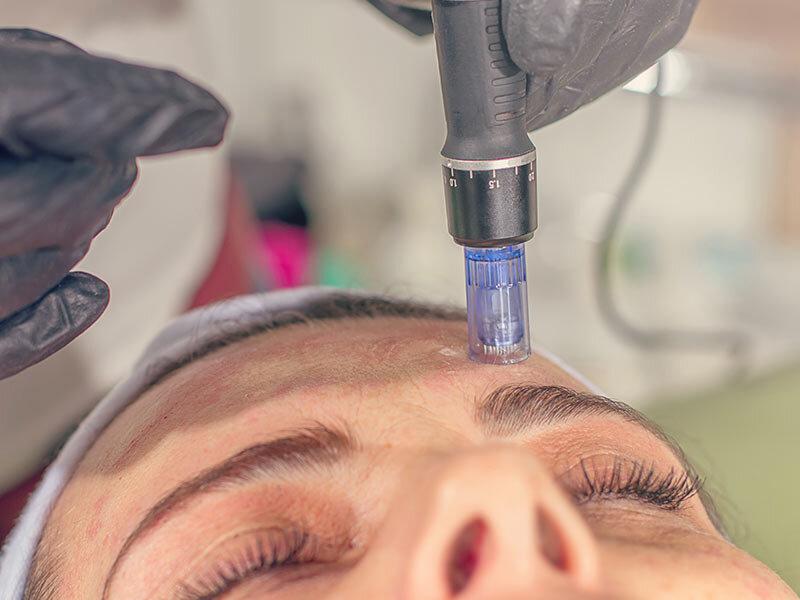 DIY micro needling tools like the needle rollers or Dermarollers are not good. They roll across the skin and can create tears and wounds in the skin. Moreover, people are not sterilizing them properly, and likewise, they get infections and need antibiotics. They may even get keloid scars.  So, microneedling needs to be done by a professional.
Professionally, microneedling can also be done with radiofrequency. Radiofrequency is when the deep layers of the skin are heated up, and this helps collagen production and wound healing.
Many people see amazing results from this. But, unless you are a trained esthetician or medical professional who knows how to do this and to sanitize properly, don't do it. 
So, these are the treatments Cassandra would never try at home or buy. See a dermatologist or esthetician and learn what's best for you and how to do it safely!